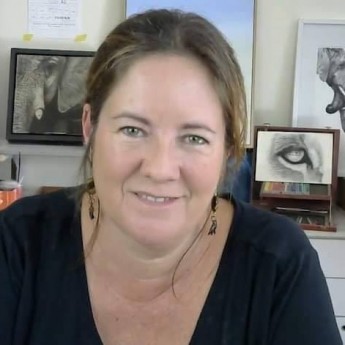 Location: Brooweena, Queensland, Australia
Artist Group/s: Pet Portraits
Themes: Animals
Medium: Painting, Drawing, Mixed Media
Art Education:
I am a lifetime artist, learning as I go. Primarily self taught with the help of a variety of workshops and lessons with some leading Australian Artists
Awards:
2019 - Best in Exhibition "Tabby" Maryborough Art Society members challenge
2019 - Highly commended "Golden Glow" - Maryborough Art Society members challenge
2019 - First Place "Guardian of the rainforest" - Maryborough Art Society members challenge
2016 - Finalist "Natural Abstraction" - Moreton Bay Regional Art Awards
2015 - Finalist "Looking for a Future" - Moreton Bay Regional Art Awards
2015 - Best in show "The Silent Stare" - Redclie Art Society
2015 - Special Recognition Award "Misunderstood" - Light Space & Time online art gallery
2015 - Wildlife art award "My Island Home" - WABA Annual Exhibition 'Floriade' Canberra
2014 - Best application of chosen medium "Misunderstood" - Wildlife Art @ Discovery, Canberra
Group Exhibitions:
Old Fire Station Gallery - Redcliffe
Maryborough Art Gallery - Maryborough
Hervey Bay Art Gallery - Hervey Bay
Rotary Club Exhibition - Brisbane
Foot Square Exhibition - Aspire Gallery Brisbane
Wildlife Art @ Discovery - Canberra
Floriade Art Exhibition - Canberra
Commissions:
Numerous Pet Portrait Commissions
Fraser Island Dingo Commissions
Publications:
"Meows & Roars of Inspiration" (Looking for a Future) - Out of Step Books
"Canberra Times" (Misunderstood) - Discovery channels art with science by Sally Pryor
Collections:
Wayne Sparrow - United Kingdom
Jacoba Brinkman - Canberra
Johanne McCormick - Perth
Scott Morris - Sydney
Amanda Merchant - Brisbane
I lived and worked in Brisbane for 25 yrs as a Signwriter, running our own business along side my husband. About 3 years ago, once our 3 kids had left home we decided to sell up everything and buy a small farm in Brooweena, which is around 40 minutes west of Maryborough Qld, giving me the chance to spend more time on my passion for drawing and painting.
I have always enjoyed being creative but have no formal training. Over the years I have tried pretty much every medium there is, but have now steered more towards the dry mediums of pastel and charcoal. I have always been a mad animal lover so thats the subject I am drawn to and get most pleasure from, which is why I love creating commissioned Pet Portraits.
I am active on social media where you can keep up to date with my current projects and see me creating art live each month.
I am now currently working on hosting art workshops at Maryborough Art Gallery and building an online membership for creatives to gain confidence in drawing realistic animals, using an easy to follow step by step framework so they can be proud of their artwork.

My Pet Portrait prices vary depending on the size, medium and number of pets required. However you can get an idea from my most popular size below.
A3 Pastel (unframed, but mounted to 16 x 20") - $570
A3 Charcoal (unframed, but mounted to 16 x 20") - $290

Please send me a direct message so we can discuss your needs and the pricing options in more detail.
Commission this artist