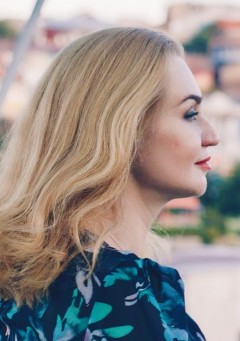 Location: Mackay, QLD, Аustralia
Artist Group/s: 2D Fine Art, Art for Children
Themes: Ocean/Water, People/Portraits, Fantasy/Surreal, Nature, Playful/Quirky
Medium: Painting, Mixed Media, Resin
Art Education:
Art College (Russia 1981 - 1985) Fine Arts&Design
Many artclasses from wellknown professional artists:
ArtClasses at Milanartinstitute (USA)
ArtClasses at Abyssimo Mixed Media School (USA)
ArtClassec from Ivy Newport (USA)
ArtClasses at RumakArtSchool (Russia)
ArtClasses from Maria Pavlova (Russia)
ArtClasses from Igor Saxarov (Russia)
Awards:
Mackay Regional Art Award - Category Winner, 2010
13th Matthew Finders Competition - Winner, 2011
46th Annual Open Art Exhibition. Shoalhaven - Category winner, 2011
Grand Art Exhibition at Gardinia - Merit Award, 2014
53rd Annual Open Art Exhibition Shoalhaven Art Socetyi -category winner, 2018.
Victor Harbor Art show - finalist, 2018,2019,2020.
Whitehorse Art Show - finalist, 2019
Camberwell Art Show - finalist, 2019
Solo Exhibitions:
Solo exhibition "TJ-gallary", 2011
Group Exhibitions:
Many exhibitions around Australia
Gallery Representations:
Bluethumb, Saatchi Art, Gallery 247
Natalia Graham is Multi Award Winning Artist who was born in Russia and moved to Australia many years ago. Now her paintings are owned by private collectors in Australia and Internationally. Natalia is mixed media abstract expressionist artist. Most of her artworks is developed in small projects or series, where a detail or a technique that gives an interesting result in one painting may lead her off in a new direction for the next.
Even as a young girl, she wanted to be an artist and her passion for painting was discovered at the young age of 5.
Natalia began studying classical art at 6 years old up through Fine Art School and graduated the College of Art and Design. Full day stady for 4 years were spent earning college degrees and sleepless nights were spent creating paintings at home.
Natalia loves using a combination of thick paint, a palette knife and experimenting with different color tones. She always been inspired by nature, whether it be seascape or flowers, to create something that is a little bit different with a modern outlook. Natalia explorer by nature and her curious personality leads her to new journeys in art.
Natalia's personal combination of traditional painting technique with modern techniques and contemporary flow medium results portals to new modern versions of arts.
The artworks come signed/dated with certificates of authenticity.
Welcome for commissions. 
Natalia saying "Paintings means freedom for me. I feel happy and fulfilled in my little world".
Commission this artist