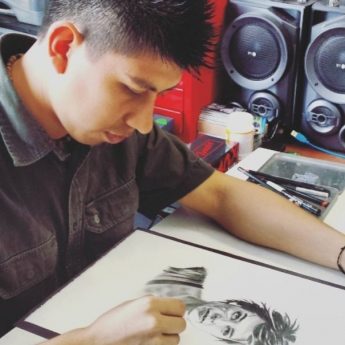 Location: DANDENONG, VIC, Australia
Artist Group/s: 2D Fine Art, Portraiture
Themes: People/Portraits, Realism
Medium: Drawing, Mixed Media
Art Education:
Bachelor of Illustration (2014)
There are a things in life I have the pleasure of doing, one of them is drawing! I've been at it since I was a little kid and always found it to be a challenging yet rewarding activity. From drawing studies to exquisitely crafted commissions, my devotion to my craft is second to none and I love sharing it with people.

I finished my bachelor of illustration in 2014 and had experience with many mediums and themes but I chose portrait drawing as my forte. Since then I have done countless commissions for people all over Australia including Nick Afoa (Lead in the lion king musical), Daniel Nistico (Autralian classical guitarist), Oscar key Sung (Australian R&B singer-songwriter) and others.

PORTRAIT COMMISSIONS
All drawings usually take between 2 - 3 weeks to complete (can be done sooner depending on situation). Please note that the quality of the drawing may depend on the quality of photo(s) reference provided. Only high quality materials are used, paper is 100% recycled and acid-free.
*No frame included

PRICES

A5 - $90 ($15 extra per added person)
A4 - $170 ($25 extra per added person)

11 x 14" - 270 ($50 per added person)

TESTIMONIALS

Here are a few testimonials from happy clients!

"Highly recommend Alejandro! His skills are second to none, also very polite and prompt with responses. Very easy to deal with, I'm extremely happy with my final product!" Zoe

"Alejandro managed to help me with a picture for my partner on Father's Day when I couldn't find an artist who could complete a picture for me with short notice of a week.. and the picture was 10/10, so realistic and even adding a shirt I asked for that wasn't worn in the original photo. I would def recommend and excellent customer service, if I need a picture again, I know who to ask.

My partner was so impressed, he became emotional and has been showing his family and friends. Thank you so much once again, Alejandro!" Dora.
Commission this artist