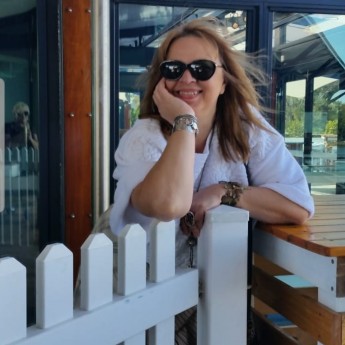 Location: Beeliar, WA, Australia
Artist Group/s: 2D Fine Art, Portraiture
Themes: Landscapes, City/Street, Ocean/Water, People/Portraits, Still life/Objects
Medium: Painting
Art Education:
Degree at Moscow Industrial Art University
Awards:
 2016 17th Annual Awards of Excellence at Alfred Cove Art Society (Excellence Award)
 2019 20th Annual Awards of Excellence At Alfred Cove Art Society (Best Oil "Venice")
 2020 Melville Community Arts Associations MCAA Awards 2020 ( Highly commended)
2021 21st Annual Awards of Excellence at Alfred Cove Art Society * Best in Traditional painting)
Solo Exhibitions:
 2015 Solo exhibition at Nunzio's restaurant, Fremantle WA
 2019 Solo exhibition at "Earlywork Gallery" in Fremantle WA
Group Exhibitions:
2013 Annual exhibition at City of Cannington
 2014 Annual exhibition at Alfred Cove Art Society
 2015 Solo exhibition at Nunzio's restaurant
 2016 17th Annual Awards of Excellence at Alfred Cove Art Society (Excellence Award)
 2017 18th Annual Awards of Excellence at Alfred Cove Art Society
 2018 Group exhibition "Body Beautiful" at Atwell Gallery
 2018 Annual exhibition at City of Melville Centre
 2019 Solo exhibition at "Earlywork Gallery" in Fremantle WA
 2019 20th Annual Awards of Excellence At Alfred Cove Art Society (Best Oil "Venice")
 2019 Annual Art Awards City of Claremont
 2019 Annual Art Awards City of Melville
 2019 NMAS Annual Art Awards Exhibition
 2019 Atwell Gallery - "The body beautiful" Exhibition
 2019 Annual Art Awards City of Stirling
 2020 Melville Community Arts Associations MCAA Awards 2020
 2020 Annual Art Awards City of Melville
2021 Annual Art Awards at Alfred Cove Art Society
Commissions:
2 Private Commission
1 Commission for Perth Royal Exhibition
Collections:
Australia
Russia
Ukraine
Croatia
I'm a Fremantle based professional artist who was born in South of Russia, graduated Moscow Industrial Art University where I studied over 5 years.

I moved to Australia 16 years ago and exploring my beautiful new surrounding and discovering a thriving artistic community has allowed me to reconnect with nature and focus my attention on producing artworks which have a harmonious beauty and simplicity at the same time.

I'm currently exploring the human form and the natural environment and producing some exceptional work. I paint in oil and my favorite theme is portrait and figures. I participate in Annual Art Awards Exhibitions where I have been winner few times. Also I having my solo exhibition from time to time.

I paint commissions of portraits and figures so please send me or GalleryGift a direct message to discuss the options of having a piece created especially for you.
Commission this artist