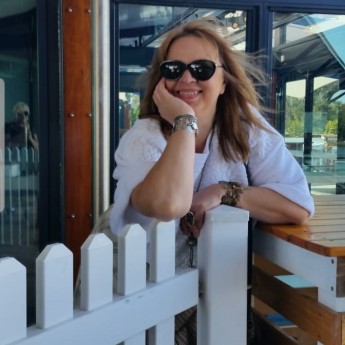 Location: Beeliar, WA, Australia
Artist Group/s: 2D Fine Art, Portraiture
Themes: Landscapes, City/Street, Ocean/Water, People/Portraits, Still life/Objects
Medium: Painting
Art Education:
Degree at Moscow High Art School
Awards:
 2016 17th Annual Awards of Excellence at Alfred Cove Art Society (Excellence Award)
 2019 20th Annual Awards of Excellence At Alfred Cove Art Society (Best Oil "Venice")
 2020 Melville Community Arts Associations MCAA Awards 2020 ( Highly commended)
Solo Exhibitions:
 2015 Solo exhibition at Nunzio's restaurant, Fremantle WA
 2019 Solo exhibition at "Earlywork Gallery" in Fremantle WA
Group Exhibitions:
2013 Annual exhibition at City of Cannington
 2014 Annual exhibition at Alfred Cove Art Society
 2015 Solo exhibition at Nunzio's restaurant
 2016 17th Annual Awards of Excellence at Alfred Cove Art Society (Excellence Award)
 2017 18th Annual Awards of Excellence at Alfred Cove Art Society
 2018 Group exhibition "Body Beautiful" at Atwell Gallery
 2018 Annual exhibition at City of Melville Centre
 2019 Solo exhibition at "Earlywork Gallery" in Fremantle WA
 2019 20th Annual Awards of Excellence At Alfred Cove Art Society (Best Oil "Venice")
 2019 Annual Art Awards City of Claremont
 2019 Annual Art Awards City of Melville
 2019 NMAS Annual Art Awards Exhibition
 2019 Atwell Gallery - "The body beautiful" Exhibition
 2019 Annual Art Awards City of Stirling
 2020 Melville Community Arts Associations MCAA Awards 2020
 2020 Annual Art Awards City of Melville
Commissions:
2 Private Commission
1 Commission for Perth Royal Exhibition
Collections:
Australia
Russia
Ukraine
Croatia
I'm Fremantle based professional artist was born in South of Russia, graduated Moscow High Art School where I studied 5 years. I moved to Australia 16 years ago and exploring my beautiful new surrounding and discovering a thriving artistic community has
allowed me to reconnect with nature and focus my attention on producing artworks
which have a harmonious beauty and simplicity at the same time. I'm currently
exploring the human form and the natural environment and producing some exceptional work which can be seen at S'Tatsi's Fine Art based on Facebook platform. Website is ready very soon.I paint in oil and my favorite theme is portrait and figures. I paticipate in Annual Art Awards Exhibitions where I have been winner few times, also I having my solo exhibition from time to time. I paint commissions of portraits and figures which you see at my business page on FB platform Tatsi Art Art.
Commission this artist